Animal Welfare And Productive Farming
Posted On 02/04/2014
[one_half]
[dropcap2]A[/dropcap2]nimal welfare in Dairy Farming is described as the general health and physiological animal function parameters being in good order. For example a lactating dairy cow may exhibit normal respiratory rates normal heart rate and temperature.  In scientific quantifiable terms, this animal is therefore doing well.
[/one_half]
[one_half_last]
[dropcap2]H[/dropcap2]owever the affective state of the animal is being overlooked in this scenario. For example – is this animal comfortable or is it hungry and is it stress free? Is it able to exhibit it´s normal behaviour and has joy in living?
[/one_half_last]
Improving Productive Dairy Farming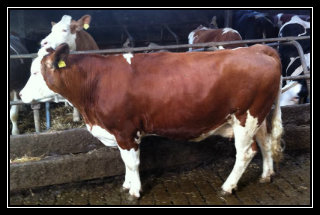 These other variables have a huge impact on the animal´s health and production as we all know. Every dairy farmer these days talks about cow comfort. Every consumer talks about cow comfort and fair treatment of production animals. I see more and more awareness of animal welfare and how it relates to productive farming practices.
More often than not, there is room for improvement in a production animal such as the lactating dairy cow. for example – a cow will hide pain by instinct. The reason is that if she shows pain in nature, she will be victim of a prey animal.
Therefore as self preservation mechanism, they do not show pain. Not until it is absolutely unavoidable because of the severity.
Then the cow requires medical attention – treatment of a foot abscess for example. Her production will have dropped, she now needs investment of time, effort and money to regain soundness and the desired milk production levels.
[one_half]
As a veterinarian, I have seen treatments done successfully and also unsuccessfully. Often times I wished that this kind of pain could be avoided because it only causes pain and suffering.
[/one_half]
[one_half_last]
Is there a simple answer to this multifactorial issue? One that is tied to so many different perceptions and opinions? I believe not.
[/one_half_last]
However, I believe firmly that with using Fleckvieh genetics ( www.fleckvieh.de), one can make significant strides in improving general strength, health and well being. All the while the milk production is still maintained.